When your organisation relies on different systems that house different data, how easy is it to obtain one report showing everything you need?
When management need to look at the overall picture of the organisation, disjointed systems cause problems and don't usually provide the live snapshot required. Various teams pulling separate reports is time consuming, prone to error and takes more work than needed.
In partnership with Panintelligence, DocTech provide a central platform to collect, integrate, analyse and present an organisation's data. The reporting platform collects data from multiple databases and can connect to data in the Cloud as well as On-Premise systems. It provides instant, live access to information from across the organisation. This provides one centralised version of the truth and can deliver reports directly to your inbox.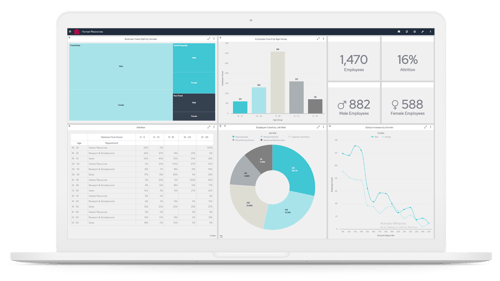 Key Performance Indicators (KPIs) are essential for measuring progress towards any desired business goal, and should be an important part of any quality business intelligence dashboard software. Our dashboard features a tracker to allow organisations to measure KPIs in real-time, with a traffic light system to provide instant notifications and business reports.
Alerts can be automatically sent out via email to an appointed individual should any KPIs fall or rise to a particular level, allowing swift action to address the issue.
The web-based reporting structure creates and schedules visual, insightful reports. Connecting to multiple databases, organisations can instantly and securely share real-time data with key stakeholders. Reports can be tailored for different users with data they and understand and interpret.
The system requires no technical knowledge and is built as a no code solution, but can still drill into the detail demanded by today's leaders. The tool helps to visually spot trends and patterns keeping organisations ahead of the curve.
Drive efficiencies, improve customer service and save time.