Since 2020 and the Coronavirus Pandemic, employees have adopted hybrid working patterns like never before. Placed into a countrywide lockdown, businesses had no choice but to close their office doors and send staff to work from home.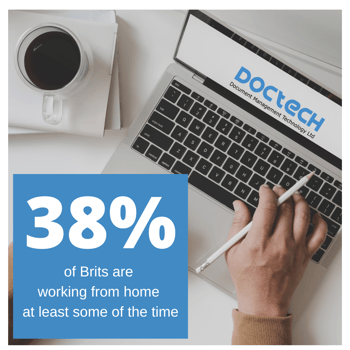 For many office employees this meant solutions were hastily thrown together to provide some sort of access to the same systems and information they used via office networks. Those still relying on paper based processes either brought lever arch files home and did the best they could, or worse still found they simply could not continue to work.
However your company managed during the pandemic, one thing is certain, hybrid working is here to stay. Many employers are now offering more flexible working opportunities, enabling staff to have a mixture of their working week from the office and / or at home.
Many of our clients that already had document management software before the pandemic told us 'we don't know how we would have coped' had they not had the solution in place.
It's flexibility alongside access for all employees to the same information meant that processes carried on as normal.
Research has shown that for those organisations not willing to embrace hybrid working, employees are happy to find a work place that does. It is therefore vital businesses provide their staff the 'hybrid working technology' they need to efficiently do their job from any location.
Process Automation
Integrating a document management system with other office applications such as an ERP or finance package means all solutions talk to one another.
Automated document workflow management triggers tasks based on business rules so when an invoice enters the system a task is generated for the appropriate person to approve it.
This scenario fits perfectly with hybrid working as staff can still take part in any process no matter where they are located.
Increase Visibility
For managers, they have complete transparency across all processes with real time information available when they need it. Employee on-boarding, accounts payable or contract management processes all continue with no interruption, no matter where staff are working.
Improve Customer Service
Customer service levels can remain unaffected or even enhanced, with case files or product purchase information organised and available at a click of a button. Increase productivity, communication and collaboration.