With employee management software, HR professionals can get back to effectively supporting employees rather than sorting paperwork and managing manual processes.
What You'll Learn
Understand how Employee Management Software can transform your Human Resources (HR) department. Compliance and administration are supported with the secure and digital storage of employee records.
With more time available, tangible steps can be put in place to work on achieving individual and organisational goals.
On this page DocTech will explain how applicant tracking, on-boarding and performance reviews are all easier to manage with Employee Management Software. Audits, compliance regulations and Subject Access Requests can easily be dealt with, reducing the stress and preparation they bring.
Don't have time to read this now? Download the Whitepaper for free.
Employee Management Software: Explained
We understand that many organisations will have an engrained way of working and to think about changing things will send a shiver down the spine!
But as the saying goes, a 'change is as good as a rest' and we hope to show the benefits that making the move to digital employment management software will bring.
What is Employee Management?
Employee management is the effective process of managing all staff to ensure they perform as well as they can and reach their potential. Without hardworking and valued staff, an organisation will struggle to meet business goals.
Employee management covers everything related to the Human Resources (HR) function including recruitment, training, appraisals, payroll, contract management, legal compliance and more
What is Employee Management Software?
Employee Management Software helps HR professionals manage all employee data and documentation in one centralised place. It acts as a digital filing cabinet where information is securely stored and easily searchable by only those with access. Each employee can have their own personnel file with all information relating to their employment. It can also be accessed by the individual themselves when looking for information on training or holiday entitlement.
The Purpose of an Employee Management System
Employees generate a huge volume of documentation – all of which needs to be securely stored, legally compliant but yet easily accessible. This can be achieved with an Employee Management System.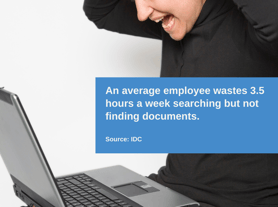 Having a digital solution in place provides the functionality to automate HR processes.
The manual storage of paperwork is removed, hours spent on data entry reduced and time wasted searching for documents is eliminated. Workflows can be implemented to help with applicant tracking, appraisal reminders, document retention and holiday requests.
The Importance of Employee Management Software
How your organisation handles employee management can be the difference between success and failure. Happy, motivated and hardworking staff will go the extra mile to see the business do well.
Ensuring they have the right tools in place and knowing the company they work for cares about their professional development can make all the difference. This can be achieved by taking the time for staff appraisals, listening to and fulfilling training requests as well as planning for their future.
Employee Management Software relieves HR managers of the manual administration work that can take them away from focusing on staff progression and job satisfaction. It allows them to get back to managing people rather than procedures. HR teams are often one of the smallest departments but can have the biggest document demands of an organisation.
One employee can generate hundreds of documents over their employment lifetime – CV, appraisal forms, training requests, holiday forms, maternity leave information, grievance issues, contracts, payroll information…..the list goes on.
Depending when the employee started these could be in both paper and digital format and spread across off-site storage, desktops and network folders. What happens when a subject access request is received or an HR audit takes place – can your business guarantee the information needed is readily available?
With an employee management system all information is centralised into a secure and digital system. This eliminates unorganised shared drives and gives employees access to important information in seconds.
Sensitive employee information is protected with secure access rights and data encryption. Access can be restricted solely to the HR team, meaning even IT can't access private employee records such as payroll data. This is vital to ensure your company meets data protection laws such as GDPR and the Data Protection Act (DPA).
The Challenges with Employee Management
The rapidly changing business landscape after the Covid Pandemic is something all organisations have to adapt to. A whole new set of obstacles face HR departments: hybrid working, employee engagement and managing furlough. These changes to how we all work will have a huge impact on future strategies companies put in place.
With a focus on 'getting back on track' and improving the bottom line, steps will need to be taken to retain employees, and an engaged workforce will enable future growth.
Hybrid and Flexible Working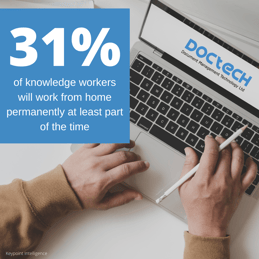 A survey from Gartner revealed that over two-thirds (74%) of CFOs plan for their employees to work from home permanently once the pandemic subsides and 31% of knowledge workers will work from home at least some of the time.
Organisations are facing remote working challenges like never before; hardware and logistical implications but also the mental and emotional impact of lockdown.
HR departments need to speak with employees and find out their working preference, opinion surveys can provide a great insight into the needs and concerns of employees. Ensuring regular check ins for those working at home will give staff the opportunity to openly discuss anything they're struggling with.
Effective Communication
Effective communication can be one of the biggest challenges with employee management because everyone is different! Diverse personalities will mean a range of communication preferences – some will like face to face meetings while others prefer to chat over a messaging service.
Frequent communication is key to ensure employees know what's expected from them and when, as well as outlining the companies preferred method of communication.
Enabling employees and managers to have access to their individual records not only frees up HR from every day queries, but being transparent with the data held on staff, opens lines of communication further.
Information Management
Employee records will be some of the most sensitive and protected information an organisation has. Loss can result in data protection breaches and thousands of pounds in fines, as well as disgruntled staff.
Information needs to be securely stored yet easily accessible which can be achieved with a Employee Management Software. Retention rules can also be applied to reduce archived information to ensure it's not kept longer than legally should be.
Keeping employee data after you're legally required to can be a breach of the Data Protection Act. You could be paying more for offsite storage than you need.
Time Management
HR team members can often struggle with their own workload as they're busy managing lots of other people's needs. Added to this, the volume of paperwork each employee generates and the processes involved can waste precious time from even the most organised HR professional.
Blocking out time in your diary so it's visible to all, showing when you're available for others and time that's for you can help ease time pressures.
Searching through unorganised employee records across desktops or network drives, as well as trying to find the right version wastes time. Sourcing a signed contract but realising only the unsigned version is available results in a trawl back through emails.
Digitally storing documents with Employee Management Software organises the information and means employee records can be found in a matter of seconds.
Onboarding
Ensuring smooth onboarding processes for any new hires is vital to make sure individuals not only feel welcome but fully inducted to the business. Frustrating manual processes and rushed training can hinder employee and organisational growth.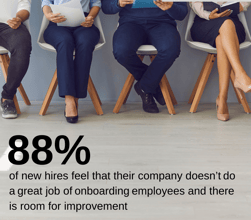 88% of new hires feel that their company doesn't do a great job of onboarding employees and there is room for improvement.
Reducing the paperwork employee's face on their first day with digital forms and automated processes, can reduce stress and free up more time for meeting staff, explaining their job role and what expected, as well as an introduction to the company culture.
Compliance with Laws and Regulations
Human Resources (HR) professionals are responsible for strategically managing employees while remaining compliant with ever changing laws and regulations. Having the most up to date legislation on laws surrounding discrimination, pay, overtime, benefits, immigration and health is essential.
Internal policies and procedures also need to be managed and supplied to staff. Using employee management software ensures staff receive the latest version while maintaining communication.
Your organisation should ensure it has the right tools in place to respond to a subject access request compliantly.
A subject access request (SAR), also known as the right of access, gives individuals the right to obtain a copy of all the personal data your organisation holds on them. This can be from anyone your organisation holds data on including clients and employees.
Documentation may account for a large portion of the information you hold on an individual, whether that's a CV, contract, training records or disciplinary meeting notes.
Document management software keeps confidential information in a secure, central location. A simple text search for the name of the individual making the access request can be carried out with results brought back in seconds.
There is further reading in our blog section on How to Overcome the Challenges of Workforce Management.
The Benefits of Managing your Employee Records Online
2020 saw the biggest organisational shift ever, with staff forced to work from home and HR teams having to support and manage employees remotely like never before. Subsequently, implementing procedures for the safe return to the office along with Covid Risk Assessments has placed an even bigger drain on time.
Paper based or manual processes that are reliant on Excel spreadsheets or separate software solutions that don't share data are labour intensive. It means the time available for HR to help employees navigate new workplace challenges, training needs and performance reviews is reduced.
Managing your employee records online and taking some time to look into HR digital transformation will alleviate pressures on HR teams by housing all employee records in a secure, central and digital system. From here automated processes, workflows and task management can begin, providing a number of benefits.
Read our blog on the 10 significant benefits of using a HR management system.
Digital Web Forms
Digital web forms can be completed by a new hire which can go on to pre-fill future forms, reducing the need for repetitive data entry. This ensures the information on every form is always correct, at the same time as being automatically fed into the HR Management System.
Forms and any future documents are indexed by the software and associated to employees in numerous ways such as by name, staff number, start date, department etc. From then, they can only be accessed by staff with the correct user permissions. There is also a full audit trail of what was changed and by who.
Applicant Tracking
DocTech's employee document management software helps with applicant recruitment and tracking. With a Connection to Outlook, CVs sent by email are automatically stored into the system and notifications sent to those involved with the hiring processes for review.
Digital stamps can be used by line mangers to add a visual acceptance of the CV. A time and date can be selected for the interview and an email with this information sent to the applicant – all from within the Employee Management software. Further internal email notifications can be sent throughout the hiring process to all those involved.
This whole processes also enables organisations to build a centralised pool of qualified applicants for any future openings.
Managing Rules
The date of every document entering the software is captured, along with any specific dates that may be present elsewhere on the document, such as employee start date.
This enables an automated process to take place where employees can be notified of probation meetings three months after starting, performance reviews six months later or annual birthdays. Digital performance review forms can be sent to an individual, completed, sent back and stored all with no manual intervention.
HR management systems also manage the retention rules of different document types. CVs, interview notes and contracts all come with different legal requirements of how long they need to be stored for. A Deletion Workflow can be applied to any document for any period of time, and once set up, the system takes care of the rest.
Why you should Choose DocTech for Employee Management Software.
We're getting close to our 40th anniversary and we're proud of our long history supporting clients and providing digital solutions for better employee record management. We understand the mounting pressures facing HR teams to be compliant and strategic, all while having employee welfare at the centre of everything they do.
Employee development is essential for individuals to progress, feel valued and to successfully contribute. This in turn contributes to business growth.
We want to help Human Resources departments be more efficient though the digital storage of employee records. We remove manual processes and replace them with streamlined automated solutions that give staff back the time they lose managing CVs, scheduling meetings and ensuring compliance.
HR professionals with more time can get back to supporting colleagues further, meeting training needs and focusing on company culture. A stressed and overworked HR department offers no reassurance to the rest of the business that they're approachable when needed.
DocTech can support your business whether you're looking for a solution hosted on your servers or in the Cloud. If you're unsure, we're happy to explain the options and provide any further information you need.
We're experts in integrating our solutions into third party applications such as CRM, ERPs and Office365. Software that shares data creates smoother and more streamlined processes.
Employee Management Software FAQ
What is Employee Management Software?
Employee Management Software enables employee records to be available online meaning organisations can digitally manage all staff data in one central place. Digital access to information is available only to authorised users from anywhere via a mobile device. High levels of security means data is secure from loss, damage or malicious attacks.
The software will be installed by professionals who can implement workflows that align with your business processes and ensure the system works for you as you need to. Any system should be user friendly and simple to use to ensure a good ROI.
What is the purpose of an employee management system?
An employee management system alleviates the pressures HR professionals face when managing high volumes of employee records, recruitment, performance reviews, payroll information and all associated legislation. It can automate repetitive tasks so HR teams can focus on employee retention, training and satisfaction.
Can an Employee Management System Manage Holiday Requests?
Yes! Eradicate the hundreds of emails received by HR and Line Managers with holiday requests and approvals. Each employee can access, track and request their own holidays and see their remaining entitlement with no involvement from HR. Requests are managed by the system with emails sent to line mangers for approval.
Can DocTech help my HR Department Management Employee Records?
Managing employee records is at the heart of what our solution can do. Secure and centralised storage with simple searching that's available to only those with authorised access. Once the required information is stored in our document management software, key workflows can begin to manage recruitment, on-boarding, training and performance reviews.
Conclusion
Effective employee management is crucial to ensure individual performance and organisational goals are met. Increase productivity and control the flow of documents in your HR department by using DocTech's Employee Management Software.
Engage your workforce through better management of their data and give HR professionals the time back to support staff and help them reach their full potential. Engaged staff are less likely to look elsewhere for employment. Retaining staff improves company culture, while saving money and time on future recruitment and on-boarding.
With secure document storage, you can ensure qualifications, training and competencies are kept up to date, while reducing paper, reliance on network folders and pressure on staff.
We understand that switching to a new way of working and introducing new software can be daunting, but we are here to help every step of the way. Our team of friendly and experienced staff have the knowledge to implement a solution that works for your business.
We offer process improvement advice and support to organisations in various industries irrespective of their size and stage of their projects.
Whether you know you need employee management software, or would like some further information on how it could work for your organisation get in touch. Book a discovery call with a member of our team who will listen to the challenges you're having in HR and explain how our solutions can help.