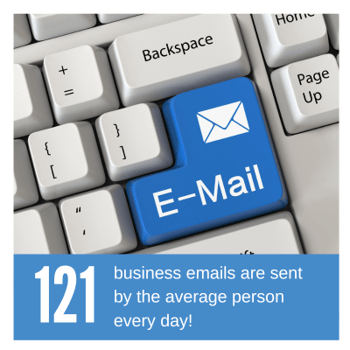 Email inboxes have evolved from the days when they were simply a communication tool.
For organisations of any size, they are a repository of critical business information in which documents are sent and received. These emails and their attachments can be vital to kick start a variety of business process workflows, making email management something important to think about.
Email inboxes often contain information which is valuable to multiple staff members, leading to shared mailboxes being implemented. For many organisations, maintaining shared mailboxes and the status of attached documents can be very problematic.
Email management tools are now routinely used to assist in the tracking and the organisation of these inboxes.
Email Management Tools
You've landed here because you're considering an email management tool for your business, but it's also worth thinking about these following points:
Does your organisation receive high volumes of emails and struggle to organise them?

Do employees work from a shared inbox?

Do you struggle to track important emailed documents around the business?

Are employees spending too much time moving between different business applications such as Office 365, ERP systems or finance packages?
If the answer to any or all of these is yes, then our email management software will help with tackling the difficulties around email organisation. Read how it did for Financial Services provider Wettone Matthews.
DocuWare Connect To Outlook Tool
Connect to Outlook or Office 365 is a standard part of every DocuWare Cloud license and is available as an add-on module for On-premises clients.
With email connectivity, users don't have to leave their email client to store email messages or search the file cabinet.
DocuWare enriches email messages with all necessary index data so messages can be easily found and used to start digital document workflow.
Automation
Dedicated email folders can be monitored by our document management software. When an email is received, it can be automatically stored and actioned without the reliance on staff intervention.
This removes the need for drag and dropping into folders or scanning and renaming which greatly frees up employee time. It also allows document-based processes to be transparent to staff who might not have access to the mailbox, but do need to track the progress of emails and their attached documents.
With a shared inbox receiving multiple emails from clients, knowing which member of staff has seen and actioned emails is challenging. but the DocuWare integration removes that headache.
DocTech's email management tool provides a visual indicator on each email to show users what has been actioned and filed away. In the below image, all emails flagged with a blue box have been stored to DocuWare.

With emails and attachments no longer stuck in the inbox, they are now securely stored in a centralised system and the next stage of the business process can begin.
The most common processes we see clients using document management software and it's email management tool are accounts payable, employee management and customer service.