Cloud
A cloud offering refers to data which is accessed via servers over the internet, as they are hosted outside the business. The DocuWare Cloud offering is hosted on Microsoft's Azure platform. The cloud enables users to access the same files and applications from almost any device as the computing and storage take place on servers in a data centre, instead of locally on the user's device/machine.

With a cloud document management solution users get a full range of services with flexible licenses for different company sizes, on a subscription basis.
You decide on the number of user licenses and storage capacity. An IT team isn't needed to install the software, and DocTech will take care of software upgrades and maintenance. It can be deployed quickly and integrate with your existing applications.
Watch the below video to see 10 great reasons to use DocuWare Cloud.
Working in the cloud can be key for businesses that value scalability. By leveraging robust infrastructure such as Microsoft Azure, near-infinite storage and computing power are instantly available.
All data held in DocuWare Cloud is geo-replicated three times and locally replicated in each location three times for backup purposes. Data is strictly controlled within the EU region, and is not stored or transferred anywhere else.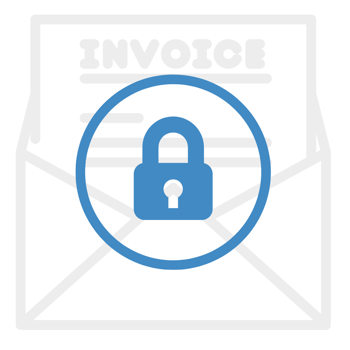 Security is always a priority and DocuWare Cloud takes advantage of active, comprehensive data centre security, as well as detailed user profiles controlled from a single system. There is a Whitepaper available detailing Cloud Infrastructure and Security which is available on request.

DocuWare maintains core feature parity across Cloud and On-Premises deployments. All document management and workflow automation capabilities are available in DocuWare Cloud and DocuWare On-Premise.
You do not sacrifice functionality whether you choose On-Premise or Cloud.

Our comprehensive suite of DocuWare add-ons are fully compatible with all versions of the software including Cloud, On-Premises and SAAS.
On-Premise
This means our software is hosted and stored on your internal servers. If your organisation has strong IT resources of its own, and / or a strong preference to control your own data, you may prefer to deploy the software inside your data centre with your other applications.

Your business can store as many documents and files as your server allows. DocuWare supports Microsoft SQL, MySQL, and Oracle databases in multiple load-sharing configurations. The client is browser-based for any browser environment. If your infrastructure is Cloud Based, such as AWS or Azure, you can also deploy DocuWare 'On-Premises' to this infrastructure.

With on-premise, there is an initial investment rather than paying for a service. The up-front cost can be financed by yourselves or via our recommended partner.
The pricing is based on the number of users and the level of functionality you require. The DocTech team will need to talk with you to fully understand your requirements and provide the best solution. With DocuWaer on-premise, you only pay for support and maintenance from year two onwards.

The biggest benefit of a self-hosted system is that you are always in control, there's no need to rely on anyone else to keep it up and running. Also, if your online connection goes down, you still have access to all your documents. Most document management systems are in place long term so the initial investment offers great value. Any on-premises DocuWare system can be published externally so it can be accessed by employees in the field, just like the Cloud offering.

On-premises relies on your business having an appropriate backup system in place. Documents aren't automatically saved as they are in the Cloud, so the responsibility is on you to ensure you have sufficient IT knowledge to manage the system. DocTech will work together with your IT team to ensure that sufficient backup operations are in place for the system. Finance options are available if needed to spread the initial cost.
SaaS
Our Software as a Service (SAAS) platform offers the same functionality set as DocuWare Cloud, however, this is hosted on our Private Cloud service, powered by AWS. All DocuWare modules are included as part of a SaaS subscription.

The key difference is flexibility; we can offer more options when it comes to user numbers and data volume and we also have full backend access to the servers.

Data on our SaaS platform is geo-redundant as well as two separate backups taking place to Azure and an alternative data centre.

Mobile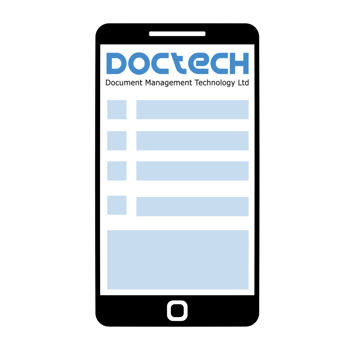 Mobile working is now a common thing and our software can ensure your staff continue to have access to important business information in, or out of the office. DocuWare Mobile is available for DocuWare Cloud, On-Premises or our SaaS offering.

Our digital document management system provides the technology to enable hybrid working and a way for mobile workers to stay connected with colleagues and collaborate on team projects. Users can be involved in workflows and store documents from any location using the DocuWare App, available on iOS and Android.

As long as staff working remotely are authorised users, they can use the app from any mobile device. It can be connected to your DocuWare system via QR code. For on-premises applications, you need one mobile license for unlimited mobile colleagues.
While out in the field, staff can receive alerts of new tasks assigned to them, as well as documents needing their approval. Collaboration can happen in real-time, removing any bottlenecks from your processes.

Mobile working enables employees to:
Complete and sign digital forms directly on their device to kick-start a new workflow

Access and review contracts

Route, review and approve invoices for speedy payment

Scan and route receipts and reports while away from the office.