DocTech enable leading manufacturers to bring the efficiency they have on the shop floor to the administration processes in the back office.
Our document management software for the manufacturing industry will deliver a suite of benefits to your business, your clients, and your accounts team. You can expect lean processes and a return on investment within months of upgrading your systems. DocTech is uniquely positioned to help you make the transition, ensuring all CAD drawings, project documents and job sheets are securely stored, easily accessible and available to all.
What would be the cost to the business if a document was lost, or if staff weren't working to the latest version? Could there be production errors and delays resulting in customers going elsewhere? What about a damaged reputation?
Why continue with the risk that paper and messy network folders pose? A digital document management system securely stores any document type in a single and easily accessible location. It monitors version control alongside any changes that were made to documents.
Document management software (DMS) plays a significant role in the manufacturing industry. It helps to streamline processes, enhance collaboration, improve compliance, and ensures the efficient management of various types of documents and data associated with manufacturing operations.
There are often other key systems and/or software in place when we start a conversation with manufacturers about document management. These will typically include ERP systems, finance systems, and quality management systems.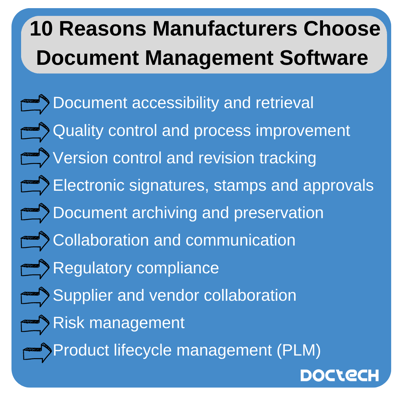 We place a huge importance in getting to know your existing systems to ensure we can compliment them. We are able to provide various levels of document management integration with a focus on making documents as easy to access as possible. This often means we enable users to view documents "within" their main system rather than having to leave and search for them elsewhere.
The requirement for document management software within manufacturing organisations often comes from a need to be efficient whilst maintaining regulatory compliance.
Our solutions are versatile enough to be applied throughout your business. Whether it's helping your finance department to process high levels of incoming invoices, assisting quality teams to manage the global documents that sit behind data in the QMS or implementing document approval processes on SOPs. We can also provide a separate area for HR staff to manage employee-based documents and automate admin heavy processes.
Why Implement A Document Management System
Implementing a dedicated document management system will deliver improved tracking, smoother workflows, and removed pain points to those working in the manufacturing.
Document management software and manufacturing are a great fit delivering improvements in efficiency and productivity. The system quickly becomes a critical tool in supporting key business operations.
Processes are streamlined, collaboration enhanced and compliance improved. Critically, a document management system provides secure and transparent management of the vast array of documents and data associated with manufacturing operations.