A process bottleneck in your organisation will mean an interruption to the flow of work that could result in delays to your product or service. Ultimately, bottlenecks are likely to cost the business money, cause stress for staff and have a negative effect on your customer service.
The term 'bottleneck' of course refers to the narrowest part of a bottle where it's most like any congestion will occur, slowing down the flow of its contents when poured.
Business process problems can occur for a variety of reasons. At DocTech we've worked through many of them with our clients, putting solutions in place that help for the long term.
Here we use our experience to talk about the top four process bottlenecks and how to avoid them.
1. Managing Approvals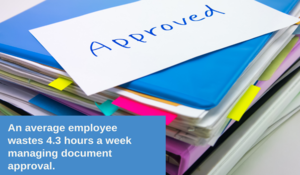 Document approvals are required across various departments and the delays in obtaining them are the cause for some of the biggest process bottlenecks we see. Whether it's an invoice that needs signing off and the Finance Director is on holiday, or a contract needs a signature but the paperwork is lost on a desk.
These needless delays can cause a variety of problems, such as raw materials not being purchased in time as an invoice wasn't paid, or frustration from clients if paperwork has been misplaced.
How to Avoid Approval Problems
With our document management software we can set up approval workflows that let you route documents stored within the system to the right person for approval.
As documents are digital and securely stored in one central location, they cannot be lost or misplaced and can only be accessed by permitted users.
If an approver is away on holiday, the workflow can bypass this person if there's no response after a set time, and move to the next authorised in line. This 'chain' of approvers can be as long as your organisation needs it to be. These automated approvals are based on your organisations predefined rules.
Any exceptions can also be flagged to the appropriate person making managing approvals quicker and more efficient.
2. Data Errors
Ensuring the right data enters a process from the beginning is vital so that errors don't affect the entire process.
It's a business process problem we often hear about, where manual data entry, whether it's copying from paper into a system or transferring data from one system to another, causes problems as human error creeps in. Manual data entry is often what causes further delays.
How to Avoid Data Errors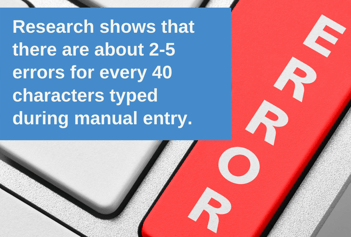 Document management software can be used to automatically and accurately capture data from paper or electronic documents. It reads the information on the page, whether hand written or typed, and coverts it into structured data to be used as a part of any process.
We often see the greatest benefit of this in Finance Departments where a multitude of information from invoices needs inputting into Sage or Access Dimensions etc.
The time spent manually typing this information from an invoice is removed, therefore invoice processing is quicker and invoices paid ahead of time. The pressure of staff is eased, especially around month end, and supplier relationships are improved.
3. The Reliance of Being in the Office
Problems existed even before hybrid working was so widely introduced after the Covid Pandemic, when being in the office was the only way to manage paperwork, causing delays and huge process bottlenecks.
For many organisations with employees who spend time on the road or working on site, there is no way for these staff members to complete administration tasks, other than coming to the office. Whether it's to pick up project files to take out with them or to bring in receipts to process expenses.
Further problems can also arise when a member of staff who is away from the office needs to authorise a payment or approve work, and manual or paper processes prohibit this.
How to Avoid Reliance on Office Only Tasks
Businesses that implement a Document Management System gain the ability to access documentation from anywhere with an internet connection and on any device.
All employees whether at home, in the office or travelling on a train access the same information stored in the Document Management System.
Employees don't have to lug heavy files full of paperwork out with them as everything is easily accessible from their phones. This lessens the burden on staff, reduces the risk of information being lost or damaged and improves compliance.
Automated and digital workflows also mean that employees can still participate in approvals while away from the office. If a Project Manager needs to sign off on a project, a task generated by the Document Management System can alert them via email. Once logged into the system they can approve or reject, meaning work back at the office doesn't stop.
4. Poorly Designed Workflows
A workflow is the how, what and why of a business process, and poorly designed workflows or those that are outdated and no longer meet the demands of the business will cause process bottlenecks.
A workflow outlines all the steps in a process that employees should follow, but what happens when workload increases and corners are cut to keep up?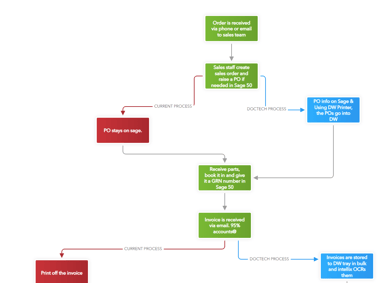 If a workflow is unable to scale as business does then it needs reworking. Using an application like Excel instead of a fit for purpose system just because everyone is familiar with it, or having no set rules in place for staff manging a shared email inbox is likely to cause chaos.
Likewise workflows that still involve paper, such as new employee forms will cause process problems as they're time consuming, result in more manual work and have the potential to be lost.
How to Avoid Bad Workflows Affecting Productivity
Take control and put some time aside into mapping out how your workflows need to function to get the best results. Talk with all involved, understand what they do and what they feel the problems are.
Think about why the bottlenecks are happening, are delivery notes not making it back to the office in time for admin staff to process, meaning there are delays in payments? Are there too many invoices coming to the Finance team in different formats creating confusion and frustration?
A well thought out workflow coupled with software to implement workflow automation will ensure tasks are completed in the most efficient way.
A system that helps to track, edit and manage the elements of a workflow will provide transparency to all involved. Each member of the team can see what stages of the workflow are complete and where there could be any hold ups.
For more tips and benefits like this or for further information, head over to the Digital Transformation Strategy page of our website.
Conclusion
There could of course be many more reasons why your process bottlenecks are happening – out dated equipment, email inboxes full of actions with no precedent of who should deal with them or how, lack of office automation….
Whatever the reason, carrying on as you are shouldn't be an option and manual and paper processes need to be replaced with digital, automated workflows. This will streamline operations, reduce over heads, save time and create a happier workforce.
Speak to us about any business process problems you're experiencing and we will explain how our solutions can help. We implement simple, user friendly systems for organisations ranging in size and requirement and we know we can help yours too.
Book a call with a member of our experienced team.