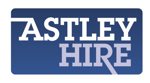 Astley Hire are a family run independent hire specialist based in the North West. They provide expertise and cost-effective equipment to clients in multiple sectors including food factories, production, distribution, warehousing and engineering.
Astley Hire has grown successfully through investing in a vast range of products and adding new hire divisions such as powered access hire, scaffold towers, cleaning equipment, lifting equipment and maintenance tools.
Established in 1966, they also offer training courses to support their clients further and are both IPAF and PASMA approved.
As a highly regulated organisation providing potentially dangerous equipment, Astley Hire must adhere to several processes before they engage with a new client.
To be able to hire equipment their customers must first open an account. The account needs to be created and a member of the finance team must perform a credit check, since the equipment they are hiring can be of high value.
Astley Hire currently have 800 spending accounts, with 124 new accounts opened in the first six month of 2023 alone. The volume of these accounts means the application process must be as efficient as possible.
Slow, Error Prone Processes
Management realised that the customer account application process was slowing them down and causing problems they had to spend too much time rectifying. Astley Hire's General Manager told us.
"There was a lack of control and a lack of a structured process."
The original process in place used to collect applications wasn't strong enough as new customers would need to download a PDF from their website, print, complete, sign and then return.
It was time consuming and it was often hard to read a customer's writing. Important documents were regularly missed off applications including drivers licenses and insurance documents.
With that in mind, management asked their network to recommend a suitable supplier to work on a solution. Astley Hire were introduced to DocTech and after a software demo and a Statement of Works being agreed, the document management software DocuWare was implemented in March 2021.
Application Delays
Their original process would mean multiple emails going back and forth or phone calls between staff and customers to clarify information, which delayed applications further.
Customers would often send applications to the sales person they'd been dealing with which had to be forwarded through the business, causing more work for everyone involved, as well as a lack of consistency and transparency.
It was decided a digital form would be embedded onto Astley Hire's website that enabled customers to complete the application online and could feed all information straight to DocuWare.