Document indexing is a way of classifying or tagging a document to indicate what it is about. It is a simple description of the content to make the document quick and easy to find when it has been stored digitally.
Document indexing can be a little harder to do if you are using a folder structure on your computer to save and categorise documents. You will need to have many folder levels to get the same results, therefore classifying your information by more than one category is difficult.
With invoice processing, if you want to find an invoice from June 2021 that has been paid by a certain client - where do you start? Are these stored by year or client? Even with the best folder structure, clicking through multiple folder levels is time consuming and error prone.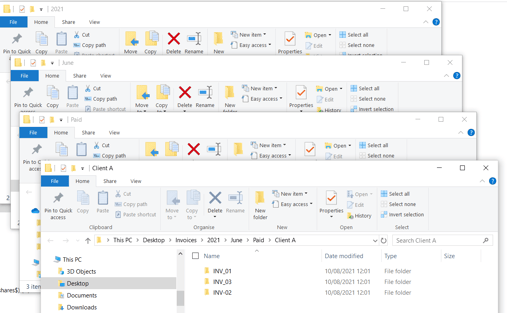 Saving an invoice with the wrong name or in the wrong place can result in lengthy searches, lost information and time wasted. Document indexing software removes these problems while storing data centrally and securely.
The Purpose of Document Indexing
Document indexing gives the ability to quickly search and retrieve the information contained in scanned documents. This scanned information is then digitally stored and tagged with data that directly correlates to what the document is about, and subsequently, what search criteria will be used to find the document.
Document indexing software like DocuWare provides this functionality and means key information from scanned paper, emails and PDFs is accurately captured and stored.
DocuWare's Intelligent Indexing
DocuWare's Intelligent Indexing automatically captures the most important data from scanned documents and uses it to populate index fields. It scans the documents and finds key information such as document type, company name, reference number, date etc. and saves the document with this information 'tagged' to it.
When a user carries out a search by 2021, any document stored with that year as a tag, will appear in the search results. A search can be narrowed down further by searching for two criteria such as 'invoice' and '2021' and all invoices stored in 2021 will appear. No more clicking through multiple network folders or searching through paper files.
The more DocuWare's Intelligent Indexing is used, the more accurate it becomes. Machine learning technology remembers each document along with any indexing corrections made. This increases speed and reliability improving any process it is used for.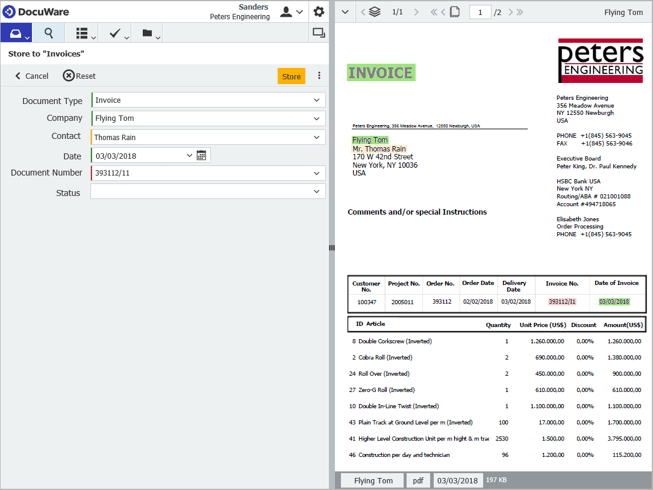 Accurate Data Capture
It is a powerful tool when capturing information from invoices as there is minimal room for mistakes. Invoice data captured by DocuWare can be automatically pushed into an ERP or Finance system, meaning manual data errors cannot happen. There is no re-keying of information and no wasted time.
Document indexing can be as simple as putting your documents on a scanner, pressing a button and the information on it is securely stored. Anything the system may be unsure about is flagged for a member of staff to check.
These documents can remain as a digital archive or they can kick start a workflow. A confirmation email can be sent to a customer when their order enters the system, or a task initiated for a member of the Finance team when an invoice needs to be approved.
For more information on how DocuWare and Intelligent Indexing can help your Finance Department, read our Ultimate Guide to Automated Invoice Processing.
A carefully managed process with the help of document indexing software reduces the chance of information being lost, misfiled or accidentally forgotten. Staff will save valuable time searching for documents and can become more productive within their roles.
For more information on how Intelligent Indexing can streamline your processes and make working life that little bit easier, book a discovery call with one of our experts. We will listen to your needs and talk you through how our solutions can help.