With machine learning technology the most important information from an invoice, such as customer name, Invoice Number, Tax and Total amount are accurately captured and turned into structured usable data.
Document layouts are remembered so each capture leads to increased speed, precision and reliability. Any corrections are rectified by a user with a simple point and click on the document.
Over 80% of invoices are captured correctly in under a minute, dramatically speeding up the process compared with those using manual data entry.
Once an invoice is in the system a workflow starts where it is checked for duplicates, followed by a check against existing supplier records. If a supplier does not yet exist, an automatic supplier on-boarding process starts.
From here invoices are moved for approval which can be carried out in full by the system, or with some user checks in place. This is down to individual business preference.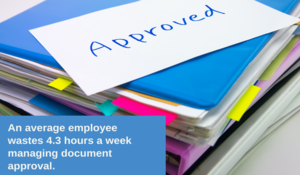 Invoices can be automatically approved for payment if it's a repeat supplier, if a three way match occurs with an invoice, PO and delivery note, or if the amount is within a cost centre approval limit. For anything outside of this automated process the system seeks further validation from the appropriate user.
All approvers will be added into the system and where an approval is needed at any stage in the workflow, a notification is sent to the user about a pending invoice in their task list.
All tasks align with the due date of an invoice. Should a user be on holiday and the task is not complete, it is moved to the next authorised person in the workflow.
Exceptions
Invoices that are rejected for any reason will kick start a separate workflow and follow the designated path designed on implementation of the system. Throughout the entire process data is collected and once complete, this information can be fed into accounting systems.
Features of a Good Invoice Processing Software
For an organisation to reap the rewards of automated invoice processing software, certain features will be more beneficial than others. If giving staff the time to do more meaningful tasks while reducing the stress of month end is a priority, then a system with the following features will be important:
Integration Streamlines Processes
Integration with your existing ERP or accounting system will be invaluable to completely streamline your accounts payable process.
With DocTech solutions, a user can manage financial documents stored in DocuWare from within their existing accounts software, whether that's Sage, OpenAccounts, Quickbooks, Microsoft Dynamics and many more.
Email Management Ensures no Information is Lost
If your organisation receives the bulk of its invoices via email but staff struggle to manage them, work from a shared inbox or have to manually move emails into desktop folders to be actioned, then you need a system that connects with Outlook.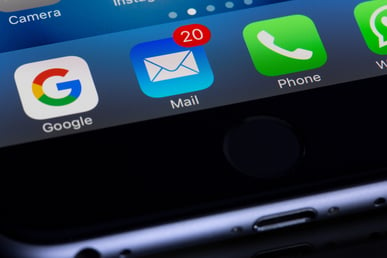 Dedicated email folders can be monitored where emails are automatically stored into DocuWare and a workflow started with no manual input at all. Integrating emails into an invoice process saves time and ensures all information in the email is captured and available to all team members.
Emails sat in an inbox waiting to be actioned, or worse lost, slow down the accounts payable process which can lead to late invoice payments.
Visibility and Control means Nothing is Overlooked.
With increased visibility into accounts payable and accounts receivable, your finance team can closely monitor billing discrepancies and payment terms. Electronic payment reminders can ensure nothing is missed.
Coupled with this, the time spent preparing for an audit is reduced as all documents are indexed and easily accessible. DocuWare also provides a full audit trail to show who has accessed what document and when, meeting compliance requirements.
Why Your Organisation Needs Automated Invoice Processing
If out-dated, paper based or manual processes are giving you more problems than they are solving then it's time to look at automating your invoice process.
The supplier on-boarding process can be a nightmare for many, assessing compliance and risks, collecting company information and integrating them into your supply chain. An invoicing system should be able to check if a supplier already exists and if not, start an automated on-boarding process which generates a form for them to fill in.
A mounting pile of paperwork is why many organisations turn to a digital invoicing system. When processes can no longer cope with the volume of documents created or when physical storage space is limited, making the move to a digital solution will help.
Data stored on paper or across inboxes offer very little security, and cannot be easily searched or organised. If employees are having difficulty simply finding invoices then things need to change. They're wasting paid hours and time that could be spent on meaningful reporting or other strategic tasks.
Invoice fraud isn't just something that affects the big players. It's one of the most common types of fraud an organisation can experience.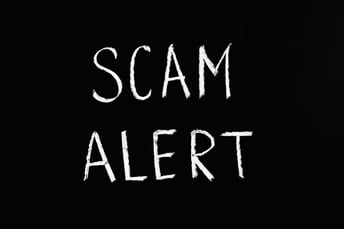 Whether it's scammers issuing fake invoices from a fake company or a supplier sending duplicate invoices so you pay twice, manual checks may only spot this when it's too late. Invoice processing software can flag an invoice from an unknown supplier and check for duplicates before payment is made.
In Summary
There can be many pitfalls when manually processing invoices and a number of factors management should consider.
How long are invoicing processing times and how often do late payment charges occur?
Is your business information secure, who has access to what documentation and what can they do with it?
How much money is wasted on paper, printing and physical storage, alongside paid hours of staff held up by poor processes?
Can your processes easily scale up for future growth?
Uncertainty in any of these areas means staff become demoralised and the competition moves ahead.
DocTech offer a free discovery call - talk with one of our experts, discuss the problems faced by your Finance team and understand the improvements we can make.
Our experience with organisations exactly like yours is why our clients trust us with their most important documents.