How long it takes to process an invoice will differ depending on the number of invoices received, internal processes and the size of the organisation. We hear from our prospects it can take two weeks, if not longer. If it's taking your organisation too much time to process an invoice then it's likely you're missing out on early repayment discounts, you lack the ability to easily scale and suffer from late payments.
Invoice processes that rely on paper or manual data entry are often error prone and can cause unnecessary problems. Manual processes require a lot of human involvement which in turn creates a higher number of touch points.
This all means it takes longer to process an invoice than it should, causing potential delays to suppliers and customers. These problems can be easily addressed with accounts payable automation, as we will go on to explain.
What Is Invoice Processing?
Invoice processing is an important function of any business and refers to the handling of a supplier invoice from receipt, right through to payment. There are various steps that must take place however to ensure the correct invoices are paid and that that fraudulent activity isn't taking place.
Every invoice received must be:
Accurately captured and matched to a Purchase Order
Entered into an Accounts Payable system
Assigned a GL code
Approved or rejected
Authorised for payment
Paid
Archived
Keeping on top of all these steps is time consuming and increases the chance of issues occurring. For smaller organisations without a dedicated Accounts Payable department, employees may be overwhelmed with tasks causing stress as well as mistakes.
Accounts Payable Automation
Accounts payable automation (AP automation) uses computer software to digitally process invoices, minimising human touchpoints whilst removing paper.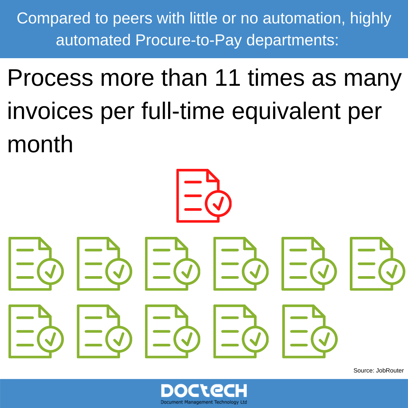 Invoices arrive in the system via a scan, import or straight from an inbox and then make their way through a digital workflow, designed to replicate or improve an organisations existing process.
Invoice data is accurately captured then indexed by the most important information such as supplier name, date, reference number, amount etc. This data then becomes available to use in searches and results are brought back in seconds.
AP automation involves the right people from the start. Including approvers in the workflow means they are automatically notified when an invoices meets the criteria needed to be approved. No more emails back and forth or physical stamps on a document are required. Accounts payable automation is leaner, more accurate and more cost effective.
You can read more about invoice processing in our Ultimate Guide.
The Benefits of Automation
We hear from our clients that automating their accounts payable process has brought a variety of benefits, such as removing paper chaos right through to getting out of the door on time. Whether it's an improved bottom line or reduced stress for staff we know the advantages accounts payable automation brings.
Save Money
With accounts payable automation organisations can save time and money with improved, streamlined and more efficient systems in place. Processing invoices digitally means paper, printing and physical storage facilities are no longer required, removing the associated costs.
Costly errors such as duplicate payments or missed deadlines are eradicated as the system provides notifications for both.
Save Time
Employees no longer need to click through multiple levels of network folders to access the required document, they can simply chose from a dropdown select list. Filter by year and supplier, and all related invoices are available in seconds.

Access to information is available from anywhere and at anytime whenever there may be a query. Staff can take part in approval workflows from a mobile device, ensuring processes don't stop while away from the office.
Reduce Manual Data Entry
With accounts payable automation, data is extracted directly from an invoice, stored in the system and pushed to an integrated finance or ERP application. Employees no longer need to manually key data from a paper invoice or copy and paste information.
Not only does this save time, but it reduces the chance of errors.
Gain Early Repayment Discounts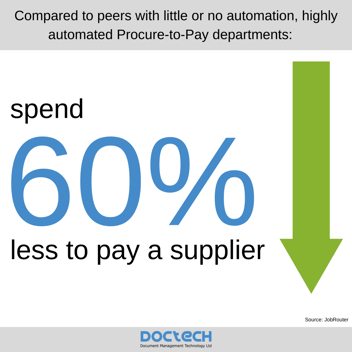 With improved invoice processing, invoices are routed through the required steps more efficiently and therefore quicker, meaning they're paid quicker. If invoice payment terms are 30 days from its date, but a discount is offered for payment within 15 days, companies with automated solutions will be able to benefit from these discounts.
If 10 of your suppliers offer a 3% discount for early payments and you pay them a monthly total of £8,000, that's a saving of £2,880 a year you could be make.
Scalability
When the business grows, processes have to be able to scale up easily and efficiently. A sudden influx of invoices that have to be manually processed can take weeks to get through. How are they prioritised and what rules are in place to stop errors occurring?
Organisations need to keep up to date with technological advancements to ensure they don't fall behind the competition. Accounts payable automation reduces the time it takes to process an invoice, managing larger volumes in less time and easily scaling as and when the business requires. Any discrepancies are spotted, rectified and handled sooner rather than later.
Employee time can be better focused on budgets and strategy.
Conclusion
To move forward, organisations need to stop using outdated processes because they are familiar or there's an aversion to change. Associated problems with manual and paper processes will not go away but they're likely to get worse.
Clients Irwin M&E said:
"DocTech have provided an easy to use and fully secure system that has removed the 'blame culture' and made searching for invoices redundant. Staff are now able to process information faster and more efficiently, our control over invoices has significantly improved and suppliers are paid on time."
If you'd like to achieve the same then we'd love to help. A chat with our team about your challenges is all it takes to start.
With our solutions in place, the question will no longer be 'how long does it take to process an invoice?' but 'how can we use this extra time accounts payable automation has given us.'
Call on 0161 647 7040 or book a time in our diary.