Integrated software provides a variety of benefits ranging from improved employee communication, reduced overheads, and increased profits.
The benefits will be felt by individual employees as they can perform their jobs more effectively, management, as there's better overall visibility of business processes, and the bottom line, as systems that work together improve production and increase profit.
What is Integrated Software?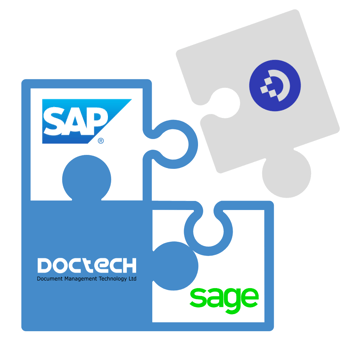 Integrated software is a way of linking up different business systems, bringing together the separate functions so they can act like one. It can also be referred to as 'business application integration' where applications such as an ERP, supply chain management system, CRM or document management software can share databases and 'speak' to one another.
Integrated software is a way to easily connect several different areas of the business and so no one department is working in isolation. It minimises the chance of employees missing other conversations with customers that could prove useful for them, it also saves time when searching for documents relating to a particular transaction that can't be saved in a line of business system.
The Advantages of Integrated Software
Each piece of software is designed with its own purpose, but real success is evident when they fully work together to provide some great advantages for organisations, including time savings, better communication and a reduction in errors.
1. Reduce Manual Data Entry
Manual data entry is tedious, time-consuming and let's face it, not much fun. But, data is vital to all businesses,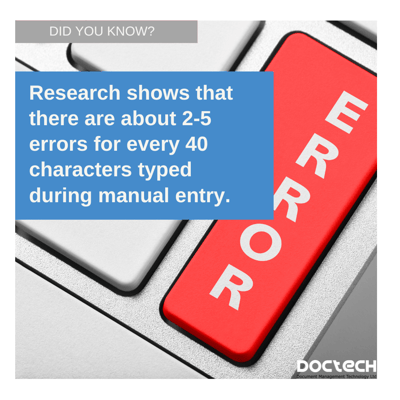 whether it relates to supply chains, customer information, sales data, website statics, financial transactions or inventory details. Organisations can't operate without accurate data, which is where manual data entry can cause problems.
Errors can be made by employees when entering shipping information into a database, logging product codes for medical devices or entering invoice data into a finance package. The same data may have to be entered across multiple applications and if errors aren't found early enough, what level of issues can they go on to cause? How long would they take to rectify and how many separate databases need to be checked?
With integrated document management software data can be collected from the original source, processed, analysed, stored and pushed into any third party system. This removes manual data entry and associated errors, freeing up employee time to concentrate on more productive tasks.
2. Increase Communication
Without integrated software, departments can end up working in isolation with no real visibility of what others are doing. This often results in duplicated work, poor customer service and wasted time. For example, if there's an issue with a customer's order, the sales teams should have visibility of this before approaching them for an upsell.
Integrated software means all employees, no matter where they're based have access to the same information. Documents, emails, orders, schedules etc. are all available meaning data is shared, avoiding any errors before they can begin and increasing lines of communication.
Having the availability of real time information means decisions can be made quicker.
3. Reduce the Reliance on IT
IT departments have to deal with a range of problems on a day-to-day basis. This will include simple issues such as employees being unable to log in to software, right through to data security concerns and hardware purchases.
Organisations that rely on old systems that are no longer supported can cause further and unnecessary issues for IT teams. Legacy systems don't support new updates, there are often access issues and they lack integration options. This regularly stops businesses from moving forward and IT departments are left fixing bugs, rather than concentrating on new initiatives.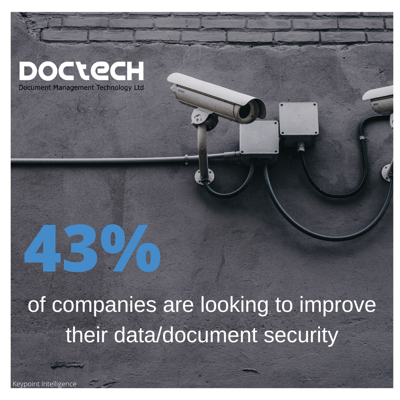 Data held in old systems can be easily exported into a more secure, advanced system such as a cloud document management solution. It may seem like an overwhelming task, but choosing an experienced provider to support you means they have the expertise to ensure the upgrade is done right.
By using technology that is future proof, any further data migration won't be needed. With modern systems, organisations have software integration options that will streamline processes and improve the bottom line.
Integrated software systems that are fit for purpose reduce the reliance on IT as they have a variety of built in rules that take care of access rights, document retention and data security.
4. Reduce Bottle Necks
Bottle necks cause problems for businesses. A bottleneck means there's a point in a process that's not working as efficiently as it should, causing delays to production or issues affecting service.
In our experience we've found that the lack of integrated software can be to blame. Having multiple systems to update and maintain is time consuming and a bottleneck in one system can go on to cause problems in another.
In this situation its hard act quickly enough to rectify any problems as they take longer to find, and there's a higher chance of human error when there are more systems to maintain.
Integrated software enables all systems to act like one as data is shared between them. It means there are no information silos or unnecessary administration.
5. Return On Investment
Juggling multiple systems makes it harder for employees to find the information they require, and this is only made worse if data is also stored across paper files, network folders and inboxes. The various systems and solutions used will slow processes down, wasting valuable time.
Integrated software helps to automate processes as information can be pushed seamlessly between key business systems such as ERP, finance packages or document management software. This automation reduces manual data, errors and the time spent chasing document approvals, meaning employees can spend more time fulfilling profitable tasks.
Overheads such as printing and paper costs, as well as the time it takes to investigate lost data or customer order errors are reduced with integrated software. Data connectivity across departments provides visibility and transparency which in turn leads to increased sales and a great return on any new software investment.
Document Management Integration
A dedicated document management system such as DocuWare provides a variety of software integration options into a whole host of third-party applications. These range from Office 365, through to case management software, finance packages and workforce management systems.
A popular feature of DocuWare is Smart Connect, an integrated button placed in any other system that provides a link back to DocuWare showing the required documents.
With a click of a button in Sage or Access Dimensions etc., users have instant access transactional documents, contracts, invoice payments and delivery details held in the DocuWare. There is no need to leave the system they are working in to search for the supporting documents they need.
DocuWare enables the seamless flow of information through the business. Accurately capturing data from any incoming document, securely storing it and then pushing any required information into a third-party application. This data can then be used in any way the business requires.
Integrated software is a requirement from so many of our clients that we have developed a wealth of in-house knowledge to deal with any request. If your business has too many standalone systems, data silos or errors caused by manual data entry, we'd welcome a chat to understand your problems further and explain how we will help.