DocuWare have been awarded the "Workflow/BPM Product of the Year" at the UK Document Manager Magazine and Awards event as well as being named "Best ECM/Document Management Software" by The Cannata Report. But what is the history of DocuWare?

With this in mind, we decided to share a bit about the organisation we've partnered with for over 25 years. Let's take a look at DocuWare in detail in terms of its people and history.
The History of DocuWare
The history of DocuWare starts back in the early 1990s. Founded in Germany and now used in almost every country in the world, DocuWare is widely recognised as a market leader for both on-premise and cloud-based document management software.
Like most organisations, it took two people spotting an opportunity within an existing business. They set up DocuWare at a time when the concept of document management software was barely known. They brought the best people on board to help them achieve the technical and sales growth we see today. All of their product development is done in-house.
Who Are DocuWare? And What Is DocuWare Used For?
"DocuWare provide document management and workflow software to businesses across the globe. Automating manual tasks, reducing dependence on paper files and delivering secure access to information and files anytime from anywhere are just a few of the benefits".
The history of DocuWare, like many software solutions started with exclusively on-premise implementations. Today, DocuWare still caters for on-premise preference but also provides cloud document management solutions and workflow automation software. The goal of the software hasn't changed - it enables clients to digitally store, track and manage business documents to optimize all document based processes.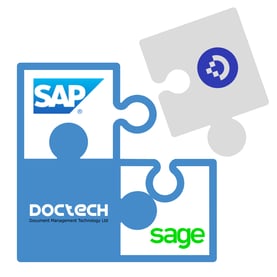 The DocuWare and DocTech Partnership
DocTech are a key part of the UK history of DocuWare. We have been a partner of DocuWare since 1995, leading the way in digital document management solutions. DocTech have achieved the top partner status since DocuWare introduced it's partnership and reseller scheme.
DocTech are a Platinum Partner and are well regarded in the UK document management industry, demonstrated by their high volume of clients.
DocuWare Today
DocuWare has more than 500 employees based across their five offices in the USA, Germany, UK, France and Spain. The history of DocuWare is really something to behold in terms of making steady growth whilst retaining a personal service and staying focused on one area of business process improvement.
DocuWare say:
"We are thinkers, leaders, makers, designers, builders, supporters and achievers — united by a love of technology and the desire to help our customers and partners succeed".
The flagship product converts tedious manual processes into efficient digital workflows and transforms disorganised files into findable, secure electronic documents. Employee happiness, team productivity and improved business performance is how DocuWare can elevate every business.
DocTech, based in Manchester, UK has unrivaled experience of DocuWare and are able to provide the most technical implements including high level workflow and DocuWare integration. If you want to know more about how DocuWare will help your business, get in touch – 0161 647 7040 or info@doctech.co.uk.