With the right software to accurately capture data from incoming documents, accounts payable processes can be transformed from slow and error prone, into highly efficient business functions.
Nothing slows down a business process more than the need for manual data entry to convert the information on incoming documents into something meaningful.
Organisations are looking at how they capture data in terms of how accurate it is, the risk involved, and the time it takes to process and convert incoming documents.
The desire to be efficiently compliant is often a driver for organisations that want to improve the way they capture data. As they look to streamline various areas of the business, an obvious focus is the finance department.
What Does It Mean To "Capture Data"?
Data capture is the process of extracting information from paper or electronic documents and converting it into data fit for key business applications such as finance or ERP systems.
This may be in the form of manual data entry; typing information from a paper invoice into a computer system, or copying and pasting from an electronic document into the same system.
Electronic data capture however is a powerful way to automate the capture of this information. Streamlining a process to reduce or entirely remove any need for manual tasks.
Capture Data In Accounts Payable
The accounts payable process is an area of particular interest for organisations looking to overhaul inefficient processes. It involves high volumes of incoming documents such as invoices that require a lot of staff time to process and/or convert into a format the business can use. It is therefore an obvious process to digitise and is why so many of our clients originally came to us for advice.
Digitising the process means capturing all invoice information electronically, storing it efficiently and securely, and then having the ability to push it into the required 3rd party system.
Remove Problems Caused By Paper
Many organisations processing paper invoices are left with the problem of what do to with the documents once the data has been input into a business system. As invoices have to be legally kept for six years, a large amount of office space or off-site storage is required to house them. Neither option is ideal due to cost, security and efficiency.
Electronic documents however can be saved locally on a company's server or best practice would be to use a dedicated document management system such as DocuWare. The system can be cloud based or on-premise - where the system is hosted on company servers.
DocuWare stores all documents digitally and centrally in a secure system and becomes the single source of truth for employees across the business to store and search for information.
Once the document data is captured and stored, the information from it becomes the criteria used in searches. Employees can search by date, name of supplier, invoice number etc. Using Single Sign On, user's credentials are tailored to their bespoke access rights.
DocuWare's Powerful Data Capture Tool
Intelligent Indexing is a leading data capture solution from DocuWare and is particularly powerful when applied to financial documents such as invoices.
Intelligent Indexing (or Intellix) scans paper or electronic documents and instantly identifies, captures and stores the most valuable information.
It uses zonal Optical Character Recognition (OCR) to find and extract data from a specific location on a scanned document and convert it into highly structured, usable data. Any small amount of information that isn't captured perfectly can be manually corrected by an employee.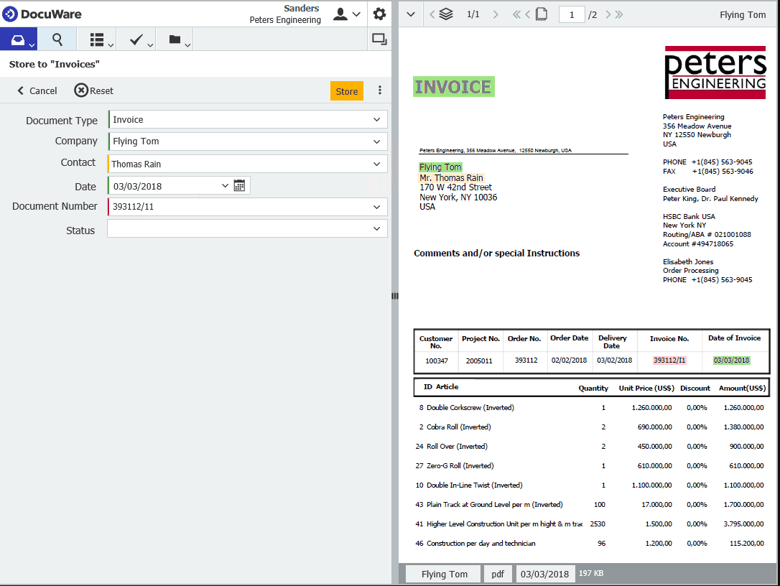 Increase Processing Times
This machine learning technology remembers each document and the indexing corrections, so every capture increases the speed, accuracy and reliability of the tool. After just a few documents the capture is automated and seamless.
Intelligent Indexing also uses feedback from multiple users – you and your colleagues – so it improves the more it is used, continually getting better and faster.
Reduce Errors
The beauty of a tool to capture data is that unlike humans it is not prone to errors. Once there is confidence that the data capture is accurate, finance departments can start to rely on it.
The data can be used to kick off workflows such as a general document approval workflow or something more sophisticated like checking invoice data against an internally created purchase order. 3 way matching is something a lot of our clients are looking for to improve their processes and reduce the time staff spend on tedious tasks.
Watch the video below to see how easily data can be captured by DocuWare and what an automated accounts payable processes looks like.
Easily Find Documents
Whether your invoices, delivery notes or purchase orders start their life on paper or are received via email, DocuWare's Intelligent Indexing effortlessly captures key data within them and converts it into structured, indexed data that is instantly usable and searchable.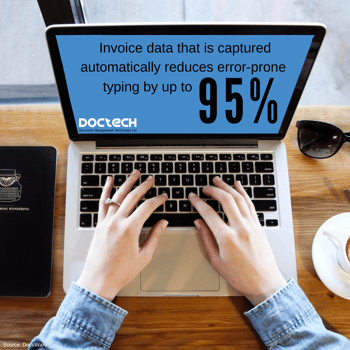 DocuWare helps companies of all sizes process documents that cannot be standardised – like incoming invoices and delivery slips, that look different depending on the supplier.
Organisations capturing data digitally remove tedious and time-consuming data entry tasks by automating the invoice and accounts payable process. This means staff are free to do more meaningful tasks, there are less errors and processing times are reduced.
If you are looking to improve the ways your organisation handles incoming documents, maybe it's time to examine how you capture data.
For a chat around what you do now, what you're looking to achieve and some advice, contact our team 0161 667 7040 or info@doctech.co.uk.