Accountex Manchester is taking place on Tuesday 19th September at Manchester Central. The conference attracts more than 2,000 accountancy and finance professionals from across the UK, all looking to make connections and enhance their knowledge on everything from bookkeeping to cloud payroll systems.
Accountex Manchester will offer demos from software providers and opportunities to network. There will also be insightful seminars covering topics including cyber security, AI, company culture and mental health.
Visit Us
DocuWare are exhibiting and as their longest UK Partner, we will be supporting them on stand C14. Our document management software has been built with finance teams in mind, offering the solution to a variety of challenges we know cause the biggest problems.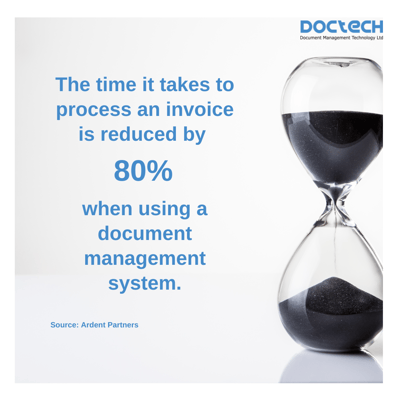 Whether it's paper chaos slowing processes down, manual data entry causing errors, difficulty obtaining approvals or audit nightmares from lack of control - we can help.
We'd welcome a chat at Accountex Manchester with anyone looking for support on how to improve their purchase to pay or invoice processes. Our solutions provide various levels of automation that enhance productivity and improve efficiency.
A fully automated purchase to pay system enables the digital management of purchase order requisitions, purchase orders (PO), delivery notes and invoices, which can be linked together by the corresponding PO number.
By having all employees follow the same process, orders, payments and deliveries are easily tracked and reporting is improved.
Automated invoice processing simplifies the accounts payable process by streamlining the receipt, capture, approval and storage of invoices and moves them through the business digitally.
Automating business processes with document management software means repetitive data entry is replaced with intuitive software that captures data from scanned or emailed invoices, pushing it into integrated finance or ERP software.
All invoices, purchase orders and delivery notes are securely stored in a digital repository accessible to authorised users from anywhere and on any device.
Why DocTech?
With hundreds of customers and more than 39 years of experience across a variety of software implementations, DocTech have grown to be leaders in our field and are proud to make a positive difference for organisations throughout the UK and Europe.
Accountex Manchester will allow us to showcase our work with DocuWare and how document management software can meet requirements, exceed expectations and be implemented on budget.
Free Download
To support accountancy and finance leaders, we have produced this free ebook - 'Automate Invoice Processing - 10 Tips on how to Save Time and Money. It details how you can cut costs, improve efficiency and minimise stress.
If you're thinking about attending Accountex Manchester or already have a ticket, please come and say hello, book a meeting or simply walk away with some recommendations on how to fix any problems your finance team is experiencing.
DocTech team members Laura Bulmer and Nicky Metcalfe-Dennis will be on DocuWare's stand C14 and they'll be ready to chat with you. We look forward to seeing you at Accountex Manchester!