Trying to understand DocuWare vs SharePoint when there's such an array of solutions, software options and variable price ranges on offer is hard. Choosing the best tool for your organisation's document management needs can feel very overwhelming.
It can be hard to know which direction to take so in this article we hope to make things a little easier to understand.
What is DocuWare?

DocuWare is a web based document management system designed to remove paper and manual work from your business processes and replace them with digital files and automated systems.
DocuWare has been specifically developed to manage documents. Scanned paper and electronically received documents are centrally and securely stored, providing easy access from anywhere on any device.
Documents are tracked by the system through their lifecycle with visibility of when they were opened or modified and by who. Every document stored is tagged with metadata providing accurate search functionality. Documents are recalled instantly with no time wasted searching through network folders or lever arch files.
What is SharePoint?
SharePoint is a platform used to manage content and to allow easy collaboration between employees. It enables a user to save a document on their PC in Manchester, then easily open, read and edit it on a mobile in London.
DocuWare vs SharePoint
DocuWare is configured to meet your exact business requirements from day one. It can work as a standalone solution or integrate with existing applications such as an ERP system or finance package. The focus is on improving processes by streamlining and automating tasks.
After implementation, admin level users are able to manage DocuWare tasks themselves such as setting up new digital filing cabinets and changing document type options.
With SharePoint you start with the basic platform and there are multiple add-ons needed for it to meet the specific requirements of your business. It also requires work to be comprehensibly used as a Document Management System. Custom development is often required which will need to be outsourced depending on the knowledge of your IT team.
DocuWare comes with optical character recognition, full text search and Intelligent Indexing which all make storing and finding documents much easier.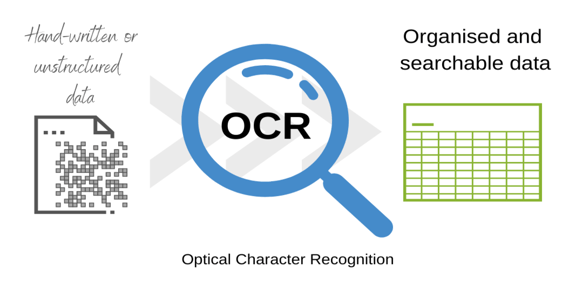 Information is accurately captured from any document and converted into structured and useable data. This data is then used as the criteria to store a document against, and subsequently search with.
SharePoint does offer data capture capabilities but this is only possible through a separate application.
SharePoint works in a similar way to Google OneDrive and can work as a repository for information. It relies on the good habits of employees however, which can be risky where multiple users are involved.
Documents need to be saved in a unified way to be easily found, and there is nothing to enforce this uniformity, which is where it differs from DocuWare. If pricing documents are saved using different names such as quote, quotation, fee proposal etc. time is wasted trying to find what you're looking for. There is also no way to view them altogether.
SharePoint Integration
If your organisation has been using SharePoint for some time, we can understand the reluctance to change. This is why DocuWare can seamlessly integrate with SharePoint if required.
SharePoint allows employees to collaborate on projects which in turn creates huge volumes of digital documents. These all need to fit in with business processes as well as comply with various legal regulations around data protection and retention.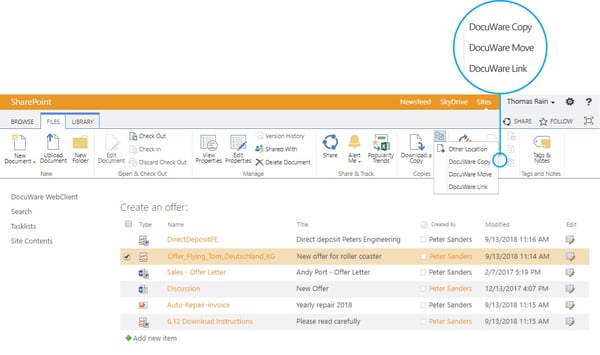 Documents can be stored into DocuWare straight from SharePoint and employees do not need to leave SharePoint to do so.
A search of documents within SharePoint will simultaneously provide a results list from DocuWare, with documents automatically indexed and securely stored.
Once in DocuWare, any digital document workflow can begin where task management, audit trails and approvals and be applied.
Why Choose DocTech?
Our inhouse technical and sales teams have more than 80 years of combined experience in document management software. We work with organisations varying in size and sector building solutions to automate business processes which meet bespoke requirements.
There is no doubt that DocuWare and SharePoint can improve business processes; they increase efficiency and improve communication. Organisations need to understand what their challenges are and why changes are needed before looking at any software solution. This is where DocTech can help.
We will provide a free assessment of your business processes to understand how your business works and what problems you're having. We will then suggest the best solution to meet your requirements and implement a plan of action together. Call us on 0161 647 7040 or book a meeting below.