A document management system (DMS) is a digital system used to store, share, track and manage files or documents. It is used by organisations ranging in size and industry to remove chaotic paper or manual processes to enforce control.
It can go by many other names including document management software, electronic document management system (EDMS) and enterprise records management.
A recent article from AIIM, (Association for Intelligent Information Management) described a document management system really well. It said:
"We can define document management as the solution which controls and organises documents throughout an organisation. It incorporates document and content capture, workflow, document repositories, COLD/ERM, and output systems, and information retrieval systems. Also, the processes used to track, store, and control documents".
According to the IDC,
"The average employee spends 30-40% of their time looking through email, paper documents, shared hard disks and filing cabinets to find information they need to complete their tasks".
A document management system addresses the headaches caused by poor document-based processes.
The Features Of A Document Management System
A document management system has a variety of features to tackle the different challenges businesses face. Our clients often start with a few elements of the software and grow from there, but a good document management system will feature all of the below:
A Document Repository
A document repository is where documents and associated data are stored. Depending on how you choose to set up your document management system, the repository may reside in the cloud or on-premises.
These repositories are completely configurable and offer granular user permissions. Bespoke rules can help organisations to eliminate the incorrect naming and storing of documents.
A Document Viewer
The document viewer is one of the main components of the user interface. Documents and images can be viewed by users on their computers or mobile devices.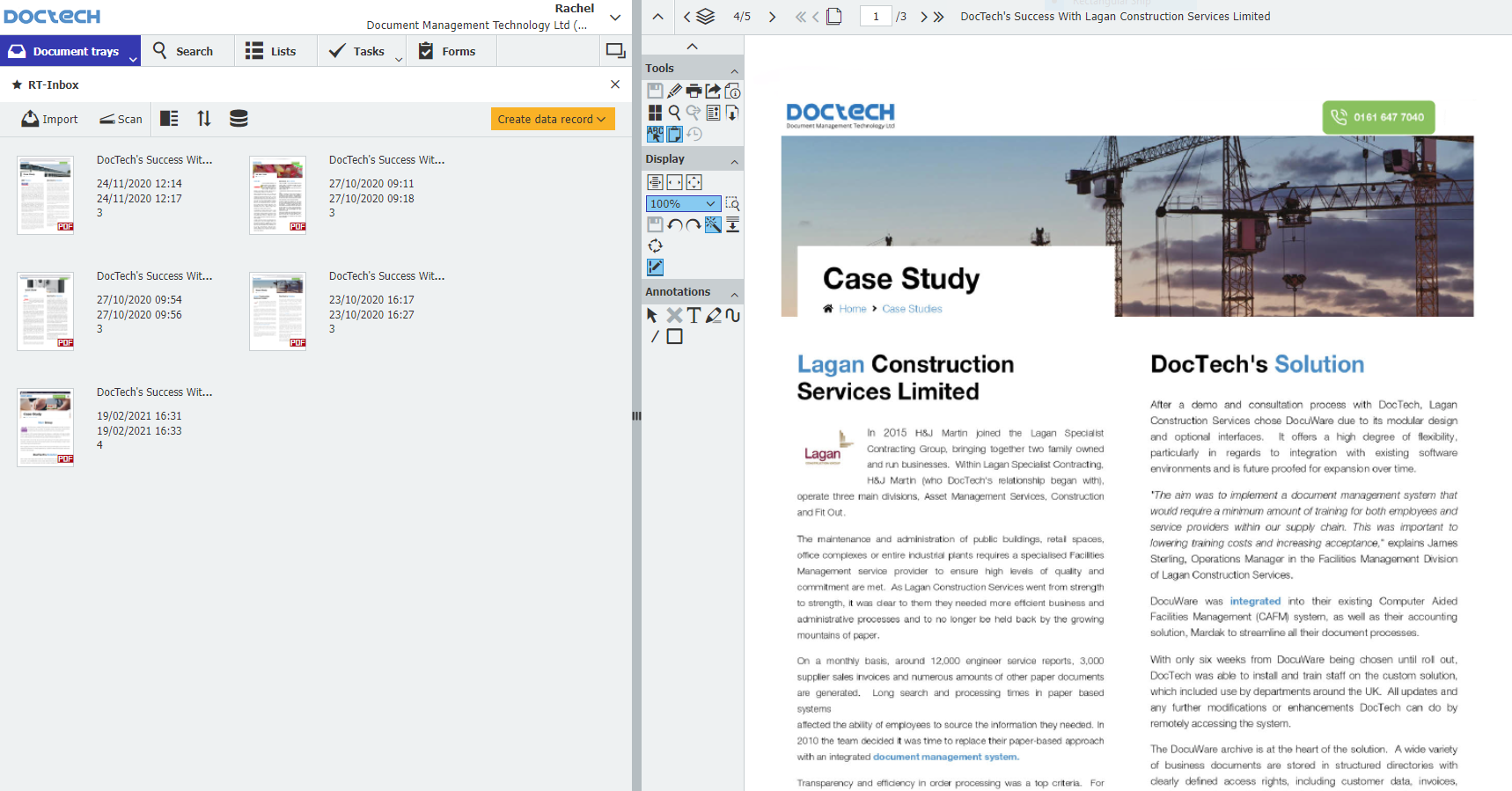 Document management systems can display PDF, JPG, TIF, CAD drawings and other image versions as well as show electronic documents in their original formats.
Document Workflow
Document workflow tools route documents to staff members or teams within the company, or to external customers or and business partners.
Document management systems offer options for optimising and automating workflows to save time and money. A workflow should provide transparency and help organisations to gain control and reduce risk. This works especially well for document approvals.
Automated task lists help to banish the need for reminders in calendars, spreadsheets and other systems.
Indexing
Document indexing is extremely powerful for enabling easy searches of the document management system. Index data classifies documents and identifies document types. Indexing enables you to move documents through appropriate workflows and find them later.
For example, you might need to find an invoice sent to Mr. Jones in August 2022. If documents are indexed by type, account number and date, you can search for all invoice documents from the 1st August through to the 31st August 2022 that contain Mr. Jones' account number.
OCR Capabilities
OCR stands for Optical Character Recognition and is a technology that converts images into text data to be used by business software. For example, an OCR tool might pull all the important information from a CV and load it into an applicant tracking system.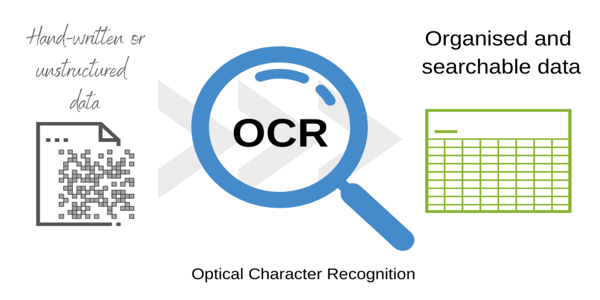 OCR is the main data capture tool in a document management system to kick start document processes.
Search Tools
Search tools let staff narrow down results of documents held in the document management system to easily find the document they need. Depending on the criteria and how the software is set up, searches can be made by document type, index values, keywords and full-text.
Integration Options
Software integration enables a document management system to work in conjunction with accounting software, ERP systems, Office 365 and other third-party applications. Our document management software DocuWare, integrates with more than 500 applications including QuickBooks, SAGE, Outlook, Dynamix Nav and SAP.
Read more about document management integration on the dedicated page of our website - DocuWare Integrations.
How Can A Document Management System Help Your Business?
With DocuWare all your documents are stored and shared digitally while keeping their original format. It's faster, more transparent, and more efficient than traditional paper-based management systems. A document management system offers formality and levels of organisations that other digital solutions lack.
The Benefits Of A Document Management System
The benefits of a document management system are endless. Organisations can save hundreds of pounds on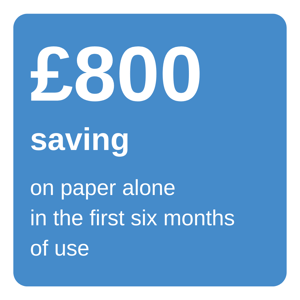 paper, printing, storage and postage costs! Our client Finch Aggregates saved £800 on reduced paper costs just six months after implementing their document management software. You can read more about how we helped them in the case study - Success With Finch Aggregates.
Other benefits include:
Saving hours of employee time searching for documents
Reducing manual data entry
Automating data capture
The ability to access documents anytime, anywhere
Removing manual work and speeding up processes with digital workflows
Applying document version control
Utilising the cloud to run the latest software
Documents are safe from damage, loss, or theft and stored in a centralised platform
Integration options with cloud and on-premise applications
Stop wasting time searching for documents across multiple systems, filling cabinets, inboxes and desks. Improve the accessibility of information across the organisation no matter where employees are located and enable your staff to be efficient every day.
Why Choose DocTech?
DocTech have provided document management software for almost 40 years and have unrivalled business process knowledge. Our team have more than 90 years of combined experience which we think positions us perfectly to support your organisation with any document management requirement.

As the UK and Ireland's most experienced DocuWare partner our clients range in size and industry and have stayed with us for the long term. A document management system should compliment your existing applications and provide the document security your organisation requires.
Watch our video about how a document management system works.
Importantly, we care about what we do. We want our software to improve business processes, reduce stress levels and make the organisation more efficient. We don't implement the software and run, but work with you to understand your processes and show you how integration with DocuWare will improve the way your organisation operates.
We'd love to hear how you're currently handling your business documents and demo our document management system to show how we will help your growing business.
Email us at info@doctech.co.uk or book a free demo below.