DocuWare integrations is something we're regularly asked about. If you're looking for a document management system it's likely integration into your organisation's existing environment is on your list of requirements.
A document management system can work successfully as a standalone solution but if you need something to talk to your existing applications, then read on to understand how a solution from DocTech can help.
You can also download our free whitepaper below which details everything you need to know about a DocuWare integration. 👇
Document Management Industry Experts

DocTech have provided document management solutions for almost 40 years and have unrivalled business process knowledge. We are the UK and Ireland's most experienced DocuWare partner so it's more than likely that our team will be familiar with your core line of business software. Over the years DocuWare integrations have become a speciality of ours.
DocuWare integrations are a standard part of many of our clients set up and we have excellent knowledge of finance packages, ERP solutions, and case management solutions, as well as industry specific software such as housing management systems.
We don't want to just give you another piece of software – we want to use our integration knowledge to enhance what you already have.
The list of applications and products we're able to integrate with continues to grow, and we have a team equipped with the technical know how to help every step of the way.
The advantages of integrated software are evident with our clients being able to work quickly, efficiently and with no risk when instantly accessing documents that relate to transactions or projects.
What Is A DocuWare Integration?
A DocuWare integration brings your existing systems together, acting as one and providing easy access to vital documents from within your ERP, finance or HR software.
DocuWare is a powerful document management system that stores any type of document or email digitally and securely in a central location. It removes the need for paper, unorganised network folders and time consuming manual admin.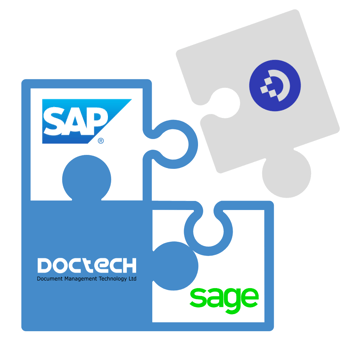 A DocuWare integration from DocTech means employees no longer need to move between separate systems to find the information they need. For example, the DocuWare and Sage integration allows your finance team quick access to documents stored in DocuWare, right from within Sage.
Alternatively, you can enhance how your ERP system works with a document management integration from DocuWare to store the documents related to transactional processes, with the addition of document approval workflows and retention rules.
Document management integration means information can easily flow between departments and teams, improving communication, collaboration and customer service.
DocuWare is generally suitable for integration with any 3rd party application, whether in the cloud or on-premise.
The Benefits Of Using An API
Using an API, (Application Programming Interface) allows DocuWare to talk with your other applications. An API communicates to a system what you want so it can understand and fulfil the request.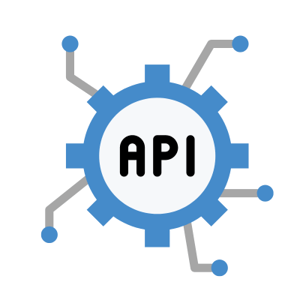 There is bi-directional data flow available meaning DocuWare can pass information to and from your other systems.
This central API is open for programming of all kinds, from constructing your own apps to embedding filing cabinets and other DocuWare resources as fully customised and branded extensions of your applications.
DocuWare works with diverse data sources: a standalone database, a DocuWare database, or even a simple CSV file. The solution also exchanges data via a Platform Service which bundles all access to DocuWare from external applications and devices.
The Platform Service is REST-based, ensuring all resources and API points have a URL. Data can move between systems regardless of the device or operating system.
The Advantages Of A DocuWare Integration
The advantages of a DocuWare integration go much further than providing a single source of truth. Businesses and employees are able to maximise efficiency by completing tasks sooner and with higher accuracy.
Some of the biggest benefits we hear from our clients are that:
Multiple systems work as one with integration into a variety of third party applications

Data capture

down to line item level with data conversion reduces errors and wasted time

Real time information is instantly available 'within' your main applications speeding up processes

There are bespoke integrations for specific requirements

Access to the documents you need are available through DocuWare from within your existing systems

It speeds up financial, HR, sales, CRM or quality processes

Documents can be stored straight from your inbox meaning there is no need to print

Communication is enhanced across aa teams and departments

Manual data entry

is reduced freeing up employee time for more valuable tasks

Data can be accessed from mobile devices both in and out of the office enabling hybrid working
Integration with hardware like document scanners is available

There is a flexible API
DocTech Promise to You
At DocTech we will work with you to understand your processes and show you how integration with DocuWare will improve the way your organisation operates.
A document management solution should compliment your existing applications, provide the document security your organisation requires and improve staff productivity.
"By using DocuWare's integration tool we have managed to incorporate enterprise grade, reliable document management functionality into our CRM software to make one system for information."
Managing Director - Finch Aggregates
We'd love to hear about the main system(s) you're running and show you how document management integration would improve your processes while working alongside these applications.
Don't continue with disjointed systems and information silos, make a change today and start seeing the improvements sooner rather than later.