Mobile working is not going anywhere as employees spread their working week across the office, hot desks, home and out on the road. It is the new norm since the Covid-19 pandemic.
Ensuring employees have the same access to software applications and data out of the office as they do in it has been a little bit trickier to manage, but it is vital to ensure productivity levels are maintained.
This can easily be achieved with document management software and accompanying mobile apps.
What Is Mobile Working?
Mobile working refers to any employee without a physical and permanent location, such as those on the road a lot, who work outdoors or who are onsite at different locations. These people can find it hard to stay connected to the office when required to complete administration tasks, view documentation or approve work.
This inevitably causes problems as processes grind to a halt because the right tools are not in place to enable employees to securely access company documents.
Connecting Employees
Our document management software DocuWare, enables mobile workers to stay connected with colleagues and collaborate on team projects. It is provides secure, digital storage for all business documents which are only accessible to authorised staff.
Users can view, upload and edit documents from any location via the DocuWare App. It is available on iOS and Android and can be used alongside our DocuWare Cloud, On-Premises or SaaS offerings.
While out on site staff can be involved in workflows and receive alerts of new tasks assigned to them, alongside any documents needing their approval. Collaboration can happen in real time, removing process bottlenecks that arise from employees being tied to their desks.
The DocuWare app enables mobile workers to work where they're needed, take part in admin tasks on the go and avoid a backlog of jobs. This level of functionality helps keep projects on time and on budget.
Keep Processes Flowing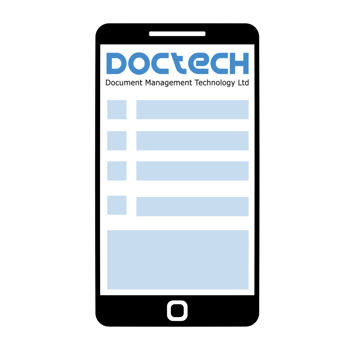 Working on the go when needed will keep your business processes flowing. Payable invoices that need input from employees on the road can be reviewed, approved or rejected via the app. Contracts can be accessed and digital forms completed without the need to sit down at a computer.
Expense receipts can be scanned and uploaded to DocuWare while out and about. They are immediately accessible and ready for processing by administration teams. Employees no longer have to keep hold of paper receipts until month end that inevitably get lost or damaged.
DocuWare can act as a simple repository for documents to enable quick and easy access to information, or it can scale up to include various levels of business process automation. Integrating with emails, finance packages or ERP software.
If your organisation depends on mobile working and you'd like to know how our document management software will keep your processes moving, get in touch.