"It seems to work ok"….. "It's how we've always done it"… "We don't have time to make changes" – These are just some of the things our sales team often hear when talking to prospects about process optimisation.
Since when was 'ok' good enough? And just because something has been done in a certain way for a long time, doesn't mean it's the best way to do it.
The idea of process optimisation may seem daunting, especially if your organisation has a lot of areas to address. Breaking it down by process will help, along with effective planning and mapping to understand exactly what's needed.
Get to know each of the key stages from all employees involved. Ensure everyone knows why changes are required, what the goals are and that the whole team is on board.
Optimising a process will make it perform better and yield better results, while ensuring employee time is better spent. Hours wasted on manual tasks, repetitive data entry or hunting down lost information due to poor processes, can be better spent on more meaningful work.
In our experience, to get the most out of process improvement there a five key areas we feel it best to focus on first. Read more in our Ultimate Guide to Process Optimisation.
Going Paperless
Organisations still printing the majority of their documents are not as efficient as they could be. Paper means printing, storage and shredding costs, as well as the obvious environmental impacts. Having information 'trapped' on paper can be lost, misplaced or duplicated.
A physical document is understandably reassuring but if is causing problems such as duplicate payments, information is difficult to find or there's too much time spent on manual data entry, the move to digital documents would bring many benefits.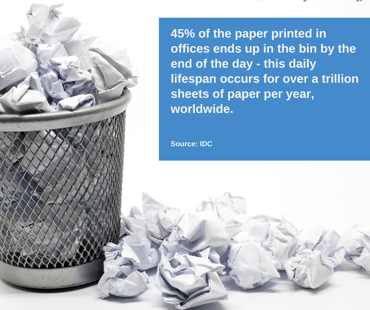 Removing paper all together isn't always needed, but to reduce the reliance on it and to store documents digitally means processes can be automated. A Document Management System stores information in one single and secure location.
Documents are easily accessible from anywhere with an internet connection and are safe from unauthorised access and malware.
To make the move to paperless, start by asking suppliers to send invoices electrically. Anything still received on paper or any historical documents that are needed, can be scanned in and automatically stored and categorised into the document management system.
Information that arrives by email can also be saved straight into the system with little or no manual intervention. Rules set up on implementation mean that should an email or attachment meet a certain criteria, it can be moved straight to a virtual tray for processing.
Automating Business Processes
Manual, repetitive and routine tasks can slow processes down and increase the opportunity for error. Data taken from an invoice and typed into a finance package may not always be 100% accurate. Once in the system and processed, spotting errors can become difficult and costly mistakes can be made.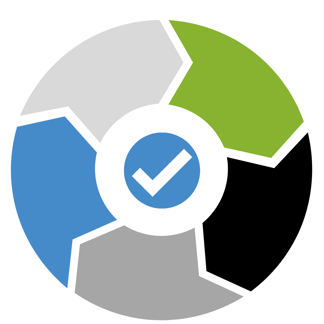 A document management system can automate these manual tasks. Accurately capturing data at the start ensures the right information is initially stored which can automatically be pushed to an ERP or finance system.
When an invoice is saved, a check can be made in the system and if there is a matching purchase order, payment can be authorised. If everything adds up, why have staff involved in these mundane tasks when their time could be better spent elsewhere.
Automating business processes makes them more efficient. Customers can receive their goods quicker, payments are made sooner and management have visibility of where a process is up to. Automation relieves staff of repetitive work and has a huge impact on process improvement.
Utilising the Cloud
Utilising the Cloud has gained more popularity over the years as it's a solution people are now more familiar with. With Smart Phones regularly using the Cloud to store pictures and files without clogging up the phone memory, businesses are recognising its power too.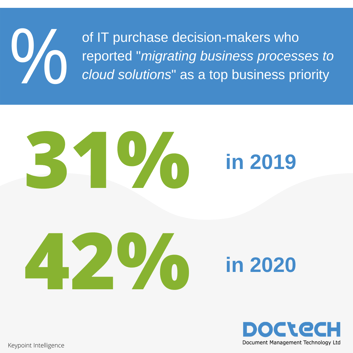 Cloud applications provide secure access to your data from anywhere and on any device with an internet connection. Cloud document management solutions easily integrate with existing software, proving a useful tool in any process optimisation project.
Having multiple systems that act as one will only make processes more efficient and streamlined. With DocuWare you get every module as a part of the Cloud package including the ability to connect to Outlook, automate data capture and create digital forms.
The Cloud offers a flexible solution that is scalable to grow as the business does. If the volume of invoices increase, having a document management system in place means the demand on staff doesn't grow as it would with paper invoices. The system can cope.
Empower a Remote Workforce
The Coronavirus pandemic in 2020 meant people all over the world had to work from home. Businesses had to adapt quickly to ensure employees could continue to work at home as they would from the office.
Chairs, laptops and monitors were all sent home and VPN connections set up. But what about specific tools for working remotely?
Think about the different types of documents employees need access to every day across each department – invoices, proposals, technical notes, product specifications, sales orders, contracts – the list is endless. Staff need constant access to this information and with a workforce now at home, the strain on a VPN connection may be too much.
With a Document Management System you can store, find and share documents easily from any location. Employees are accessing documents located in one central location and are therefore all seeing the same information. There's no need to look in network folders that may be difficult to access, search across paper files or ask colleagues if they know where information is.
Providing these tools for remote working helps with process improvement as there is no need for a physical document or the constraints that go with it.
Compliance
While some industries have greater compliance regulations than others, every organisation has legal requirements around GDPR, Data Protection and document retention. Those affected by Brexit will also have to adhere to guidelines around imports and exports, taxes and custom tariffs to name a few!
A records management policy should be in place that defines the lifecycle of all document types across the business.
Currently you may be tracking compliance with a spreadsheet – updating it each time a document is saved to the server with the length of time you're required to keep it for. Coupled with a calendar reminder of when it can be destroyed?
This is labour intensive, time consuming and error prone – what if a document has been filed incorrectly, you could be holding onto data you shouldn't be.
This is a perfect example of a process that can be optimised with a Document Management System. When a document enters the system and digitally stored, rules are applied to notify a user of when it can be destroyed. When this time is reached is it removed with no work needed from users.
There are no boxes of paperwork to look through and shred or network folders to manually delete.
Take Control with Process Optimisation Software
In our four decades of experience we have worked with countless organisations looking to make process improvements. Whether it's a better system for contract management, employee onboarding or invoice processing – we can help.
With our process planner tool we will work together to map out your process and understand the areas for improvement. We will look where automation can be implement with our process optimisation software and if there are any unnecessary steps that can be removed.
Why continue with slow processing times and error prone methods. Start looking at process optimisation today and book a discovery call with us to find out how we can help.